Fleur de Lis Quilts and Accessories
Thoughts, tutorials, and ideas on quilting for the everyday quilter. Leave a comment and come back soon!
Wednesday, May 27, 2015
Sherwin Williams has a tool called Chip It that allows customers to pull up to ten colors from a photograph. Of course, the idea is to sell paint, but what about using the palette for quilting? Doesn't that sound pretty awesome?
It's very easy to use, just take a photo of something interesting and upload it to the app. A few weeks ago I was at a local restaurant and snapped a photo to send to my hubby to tease him.
The picture was still hanging around, so it became my test photo.
To test the app, I quickly made an account and logged in. One click allows the user to either upload a photo or input a website address. A few seconds later, I got this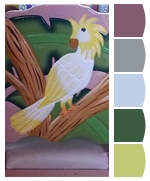 Now, I did something wrong because notice that the chips don't have names. That's because I copied the paint chip not realizing that I should click on it first.
Bu I kept at it and figured it out. It wasn't difficult at all.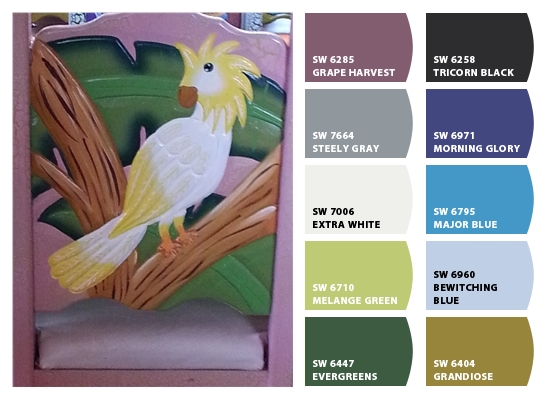 It turns out that you can edit colors. The app gives you ten to choose from, and you move them around so that the most used color is on the top left (#1) and the least used color is #10 on the lower right. Of course, you can arrange the colors in any order, but the five in the left column are the ones that show when you're looking at your whole "book."
I tried it again with this photo of the sweetheart roses in my backyard.
I didn't make any changes to the chip card so you can see how closely you agree with it's evaluation.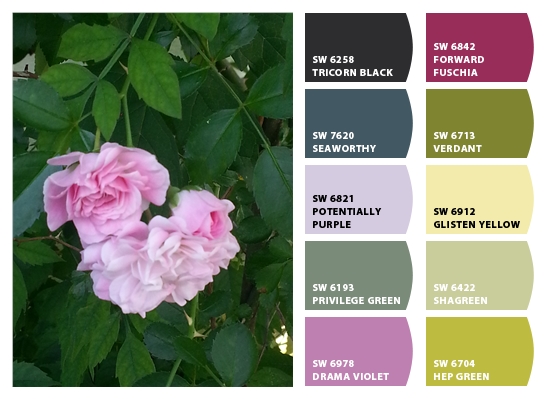 So how to use this in quilting?
I see a couple of applications...first you can use it to choose fabrics for a photo that you plan to replicate in a quilt. Quick and easy way to check the fabrics that you may have already pulled, also.
Another way to use it: when you have a fabric that you love but need to add more pieces to it snap a photo and Chip It. The photo and chips will stay on the Sherwin-Williams site. When you go to the quilt shop, you can log in to see the photo and get suggestions for fabric colors that will coordinate.
Finally, there are times when we want paint to match the fabrics that we already have in a room. This is perfect for finding just the right paint colors. One of the big ideas in DIY is to repaint furniture and fabrics. Again, snap a photo of the item you want to match and get the colors right away....no guesswork or confusion.
Sunday, May 24, 2015
Oh it's crazy, all right. This quilt is part of a bee that I'm participating in. I finished it on Friday and could barely wait to write a post about it. Mostly because the associated insanity was all my fault. Who knew that giving people a choice in sizes would cause maniacal reasoning?
Besides, I was pretty proud of the fact that I had thought that through, somewhat. I didn't consider a few other problems. Actually I didn't consider that there would be other problems. There were. Several. But I worked through them. It was easy, except for the schizo times when I thought surely there was no way I'd figure it out. I'm particular, you understand. Well, not so much particular as spoiled. I like to get what I want. I know what it is and I want that. Not something else.
In this particular case I didn't want to square up the blocks because that would make the nine-patches wonky. I love wonky. But only when I intend wonky. Otherwise, I want the opposite of wonky (whatever that might be).
I also had decided early on that I'd pretend that the block is the square formed by the meeting of the X's. That was going to be easy (at least in my head it would) because in my head the tip of the X's would all just touch....or almost touch.....or be close to almost touching. Never in my head did the X's get so flippin' far away from each other.
Look at the arm of this yellow X. It's nowhere near the arm of the other X. It's like they are in different time zones.
I knew I'd have to fake it--that was the plan, after all. But I also had to improvise--not as easy. Then I had to slapdash, pull together, and dream up ways to make the squares, well, spaces--and not necessarily square spaces. Here's another place where arms and legs are strewn all about like a crazed octopus with no self-control.
So I made-do as my grandmother used to say. Sometimes I connected the X's, sometimes I pretended to connect them and sometimes I just let it all go.
And I quilted the heck out of it. It's not perfectly flat, but it pretends to be and that's about all I can ask of it. The quilting motifs are all labeled in this post so that you can see how I changed from one to another. If you like these, go to Leah Day's website. She has more than I'll ever use.
It's hard to believe, but I am closing in on 16,000 pins! I have no idea how this is happening so fast. It seems that I rarely get on Pinterest any more because, well, I don't seem to have the time. Additionally, instead of pinning everything I find especially when I discover a great board, I often just drop the link in so you can go to that board instead of my board. But the proof is there in the numbers:
Hmm, not many likes, but that's no surprise. I don't know that I've ever liked anything on Pinterest (unless these are my likes). What about you? Do you hit the heart?
Today we're all about hearts! Why not? The world could use a little more lovin', don't you agree?
Turns out that finding heart quilts on Pinterest is uber easy! In fact, wading through it all and choosing a limited number seems to be the problem.